This was an exciting weekend for photography in Brooklyn -- New York Photo Festival, founded by Daniel Power and Frank Evers, returned for its annual exhibition of curatorial sites scattered around DUMBO. And, in other exciting news, NYPH has been extended until May 31, so that the exhibits (if not the panels and lectures from this weekend) will be open to viewers who weren't able to attend last weekend.
NYPH is in its fifth year, and should feel new. The curation is so developed, and the event so widely attended, that it feels as if it's been around for decades; reading the exhibition schedule reminds you more of how photography's place in the art world, its increasing relevance and the ways that the medium is changing. This year featured four different curators, with exhibits on locations at the event's center (powerHouse Arena) and off-site locations around the neighborhood.
At powerHouse, Glenn Ruga's "On the Razor's Edge," exhibits works that walk the fine line between fine-art and documentary, of documentarians who capture a content-driven subject in a way outside of journalistic territory. These range among journalists who would either include or disclude themselves from either camp, with artist Bruce Davidson's recent monochrome images of the nature of downtown Los Angeles; social documentarian Lori Grinker's global capture of veterans after wartime; activist photographer Reza's images from Afghanistan; photojournalist Platon's images of activists in Egypt during Arab Spring; Eugene Richards series "The Blue Room," of abandoned farm homes in the midwest; and Rina Castelnuovo, an Israeli New York Times photographer documenting the Israeli-Palestinian conflict.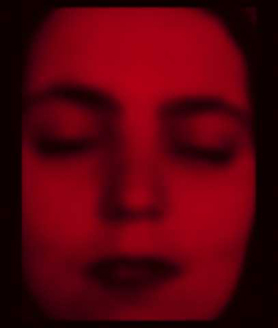 [Reza, Portrait of a Woman, Saudi Arabia, 2003]
On May 17, Ruga (the executive director of the Photographic Resource Center at Boston University, founder of SocialDocumentary.net), moderated a panel with most of the featured artists. I missed it, unfortunately, but
Resource Magazine
has a quick article with a few quotes from the panelists, most on the nature of storytelling and truthtelling
Ruga makes these points in his curatorial statement: art stems from ideas, and in documentary work, ideas are the driving force behind how to bring a truth of your subject to an unfamiliar audience. It's not just storytelling, and it's not just taking pictures. It's capturing that unnameable thing that brings you closely to the subject of the image itself.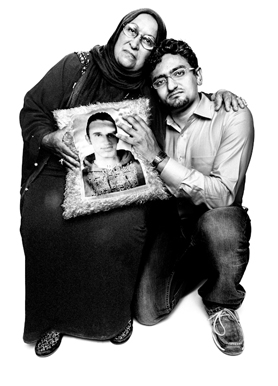 Platon, Laila Said and Wael Ghonim
Amy Smith-Stewart's "What Do You Believe In," explores the ways in which photography informs ideas and perception of the world around us, with works by 16 artists that also cross into sculpture, installation, and collage; from subjects both real and imagined. The exhibit's name came from the work of artist Jen DeNike, who has a circle of 8x10 black-and-white images made from large-format and collage, representing DeNike in deep outer space. From the curatorial
statement
(I love this so much): "Made with a large-format view camera and found collaged elements captured by NASA's Hubble Space Telescope, the photos together form a circle, spelling out 'What Do You Believe In' using the codes of semaphore flag language -- a visual mode of Naval communication."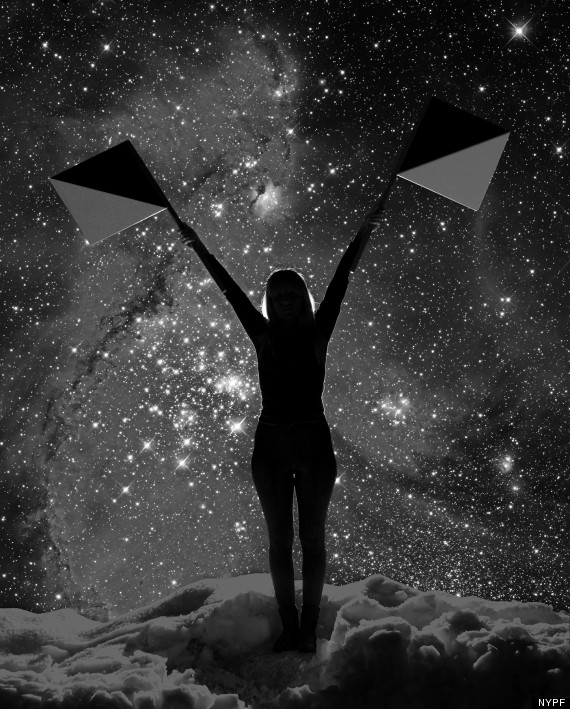 Does anyone else who missed the Space Race feel nostalgic? It feels a little weird writing about it on the internet -- our new, invisible-space mining zone. But I loved seeing this right around the news of
our new era in space travel. Fingers crossed that DeNike makes it out of the stratosphere for real one of these days.
Claude Grunitzky's "The Curse and the Gift," working with the idea of how photography is changing in our digital instant-gratification day, includes artists Evangelina Kranioti, Iremlie Krekin, and Christian Witkin.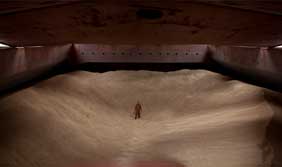 [Evangelia Kranioti, Desert Onboard, 2012]


Last, Paul Miller, a.k.a. DJ Spooky, has an installation up with large-scale multimedia from
Sinfonia Antarctica (The Book of Ice),
the artist's ongoing high-tech audio and image documentation of the changing environment of our least-vacation-friendly continent. More about
this one on Spooky's
website
.
Though the panels and lectures of the weekend are officially closed, the New York Photo Festival has
the exciting news
that the full exhibitions will remain open through May 31; so anyone who was out of town this weekend can still drop down and see the work, and the rest of us can go back to visit.
This is also the inaugural year of NYPH's New York Photo Awards, which has massive prizes, including agency rep, exhibition opportunities, and book deals. The contest is juried by the curators of this year's NYPH as well as a chosen team from the art/photo world. The
deadline
for this one is August 17.